Java Puzzle 1: Clowns - Solution
Feb 18, 2012
Spoiler warning: If you want to find out how you can fit 20 clowns into a Volkswagen, read on. If you haven't seen or tried solving the clowns java puzzle yourself, do that first!
As a reminder: here's the code it's all about:

Path to the solution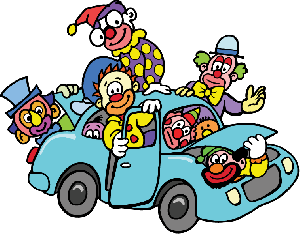 Imagine this was a real car with real clowns.
-- It's impossible to get twenty clowns in! There are only five seat belts, and this Volkswagen really insists on safety. When a clown enters, it first checks if there aren't already five of them sitting in it. Only after that checks it allows another one to sit (clowns.add(clown)). As soon as there are five clown sitting, there's no way to pass the check anymore, so no way to add any extra clown.
-- You're right that we can't add them one by one. But there is a window of opportunity between the check when they enter the car, and when they really sit down. Make all twenty clowns simultaneously enter the car. They will all pass the check of the Volkswagen, because it only counts clowns that are already sitting down. And only after the check let them sit.

-- The car's synchronized protection prevents anyone else from doing anything with it between the check and the sitting down.

-- Indeed, it prevents someone else from interfering. It doesn't prevent the Volkswagen or the clown itself to do it if they're given the opportunity (on the same thread).

-- But they don't get that opportunity; the car is a control freak. After the check it immediately makes them sit in their seats (in the Set).

-- Did you have a look at those seats? They're numbered, and they always first asks a person at which number they want to sit (.hashCode()). We've got some weird clowns here: when they're given the opportunity to decide that, right before answering, they can quickly pull another clown into the car. And that clown then does exactly the same with another clown. That goes on until there's a stack of twenty of them recursively pulling each other in. As long as their ass doesn't touch the seat, the seat-belt sign won't come on.

-- That must be quite a sight.
The solution
Call Volkswagen.add recursively, by overriding Clown.hashCode():

And the winner is...
The first solution came from Heinz Kabutz, famous from The Java Specialists' Newsletter. He actually pushed me to publish these puzzles in the first place and promoted them. To show my infinite gratitude I'm going to disqualify him for having seen the puzzle in advance.
I received 7 correct solutions that passed the clarified rules. All used the same principle: adding them simultaneously using hashcode. Half of them also danced around the Volkswagen a bit in different threads to accomplish that. That's fine; there's no ban on dancing clowns here.
Congrats to all of you, especially Manuel Alvarez who was the first, and runner-up Jean-Louis Willems with the first short solution.
Conclusion
A simple check at the beginning of a synchronized method is not enough to guarantee safety if you're not very careful with which code you give control to. But should you really worry about crazy recursive clowns when writing your simple Volkswagen code?

No, you shouldn't. Well, not unless it's about privileged code handling a sandbox -- such as code of the JDK itself when running an applet. But it sure is interesting to explore these dark corners of Java. We'll continue on that track soon with a puzzle about dreams...
---